January 27, 2015
Life Is Short
I often talk about our sanctuary and how much fun we have with the animals. It's true. They bring a tremendous amount of joy to us, and great rewards for the work we do. But there is a bad side to sanctuaries, and it's the part I hate.
Last year was a tough one. We had numerous pit bulls dumped on our property. I wrote about some of the experience here and here.
We lost one of our more difficult cases—a pig named Pearl, and in October we said goodbye to a dog I cherished, a giant Great Dane named Briella. But the year of sadness had just begun, because we lost two more pigs in the next two months, both long before their time.
Bonnie was a sweet, shy, and loving pig who had been with us for 10 years. Ten years is a long time, but I think it was the special circumstances surrounding her that made us form such a strong bond, so let me back up and tell you a little about…
Bonnie's Story
Back in December of 2004, Mikki (my wife) received a call from Animal Control. A sales rep at one of the furniture companies had called them and said a wild pig was living in the woods behind their warehouse. Animal Control had tried catching her but hadn't succeeded, so they called Mikki.
The wooded area was only about 2–3 acres, but it was dense and sticker bushes were everywhere. She scoped out the area, and figured out what we needed. Within a few days, Mikki had built a trap and come up with an idea to catch her. Needless to say, since it was a pig, the idea involved food.
We set the trap, covered it with bushes and vines and placed the food in the trap. We figured she had to be hungry, as it was cold and there wasn't much ground for her to forage. But this was a wily pig. After two weeks, we hadn't even seen her. We found tracks, heard her deep in the brush a few times, but not even a glimpse of the real thing. It was like we were after Big Foot.
A few days later, we left some food outside of the trap to see if she'd take that. When we returned the next day, that food was gone, but the food inside the trap was still there. This was one smart pig!
A Much-Needed Rest
Mikki had spent hours per day there to no avail. Christmas was approaching, so she took a few days off. When we returned just before the new year, we discovered the pig had given birth. We didn't know how many babies, but it looked to be four or five based on the tracks we saw in fresh mud.
The danger of those babies dying sent my wife into panic mode, and for the next two days, she stayed—day and night—sleeping in the van and roaming the woods trying to find the pig's home. She still had no luck, but about one week later she struck gold, catching the mother pig and three babies.
My wife should have been ecstatic, but she wasn't; she was even more worried because that meant at least one, if not two, baby piglets were out there on their own. We didn't know how long a pig that young could survive without their mother, especially in such cold weather.
For two more weeks, Mikki spent almost every day at the site, but she came home at nights. We started to think the pigs were gone, when the sales rep called and said she spotted them early one morning—there were two of them.
Renewed Vigor
That news elated my wife, who packed her gear and set off to find these pigs. For three more days—and nights—she tried, but no luck. The pigs were eating food we left, but they wouldn't venture into the trap. We even rounded up six volunteers one day to traipse through the woods with Mikki to try try to roust them out, but we never saw them or heard a peep.
Mikki and I had to go on a business trip, and it killed her leaving the hunt, but she recruited a few volunteers to keep watch. On the third day, we got the call.
The Hunt Was Over
My son picked up the pigs and brought them to the sanctuary. Somehow, they were healthy. We arrived home a few days later, and it was a sight to see. These babies were so full of play, and so happy, it made it all worthwhile.
Take a look at the video of Bonnie and her sister playing. This was during their first week home. Now you can see why they were next to impossible to catch—they're fast!

The picture is of the babies and their mother grazing in the field.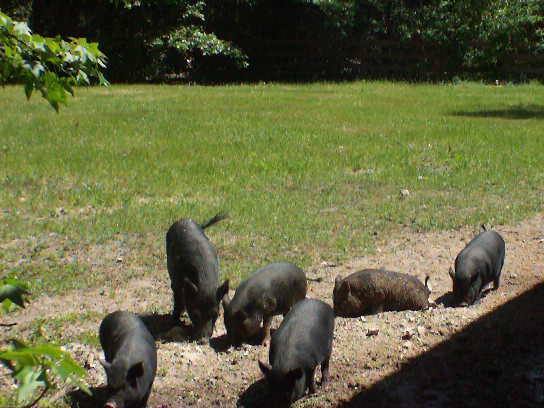 This picture was taken a few years ago. Bonnie is on the left,
and her siblings are scattered about. I think they were searching
for acorns—a favorite fall pastime.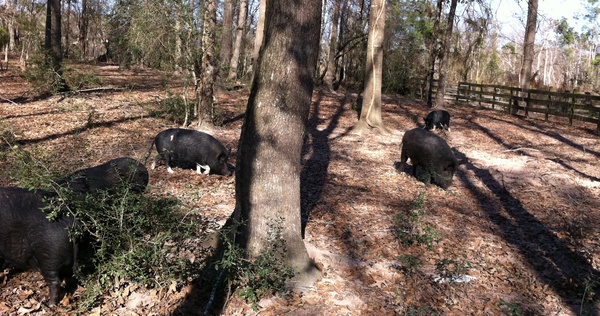 Something Is Wrong
We had a lot of fun with Fiona (the mother) and her babies over the years. They earned the nickname of "The Wild Bunch" and they made sure to continually earn that nickname, too.
Early this fall I noticed something wrong with Bonnie. When I called the group for lunch, she was slow to respond.
When a pig is late for lunch, you know something is wrong. Pigs don't miss meals.
Bonnie's behavior continued for a few days, but then she seemed to return to normal. After another week, though, she was back at it, some days even missing her meal. We called the vet, but he found nothing. Mikki checked her and found nothing. We were puzzled, as Bonnie wasn't that old, not compared to some of our other pigs.
The next week was hit and miss, but I noticed when she did eat, she wasn't eating as much, or with the same gusto as she normally did. I started bringing her special treats: apples, tomatoes, grapes, and occasionally cantaloupe (her favorite).
It soon got to where she wasn't eating at all, but every day she came when I called, and she waited on the side of the fence, staring up at me, knowing I had treats for her. She would stand still and let me pet her while she ate, something Bonnie had never been fond of doing.
A Few Last Treats
The next day, I bought her two cantaloupes and she got to eat one all by herself. I swear that pig was smiling while she ate. She even seemed to have some of her energy back.
I told Mikki about it that night and we thought maybe she was improving. The next day, when I went to feed, she didn't come when I called.
My heart sank. I knew. I knew she wasn't coming.
I called twice more, but when she didn't show up I went looking for her. She was in her barn, snuggled in the hay.
Goodbye Bonnie
We buried her under a couple of big oaks. She loved acorns, so we thought it would be appropriate.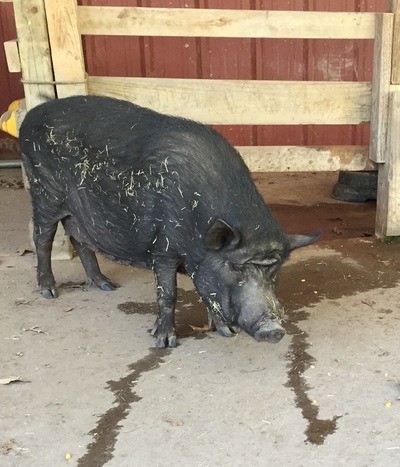 This was Bonnie the day before she died. I didn't often get pictures of her, but for some reason I took one that day. I'm glad I did.
If you enjoyed this post, please share.
BTW: If anyone has an urge to make a tax-deductible donation to our sanctuary, I won't stop you. And Dennis, AKA, the Great and Wonderful—will look favorably upon you.
Our site isn't set up yet, but you can email me at jg@tuskanyfalls.com for details. Thanks!
Giacomo Giammatteo is the author of gritty crime dramas about murder, mystery, and family. And he also writes non-fiction books including the No Mistakes Careers series.
He lives in Texas where he and his wife have an animal sanctuary with 45 loving "friends."